Our Story: Holland Park West Haus – Work-life balance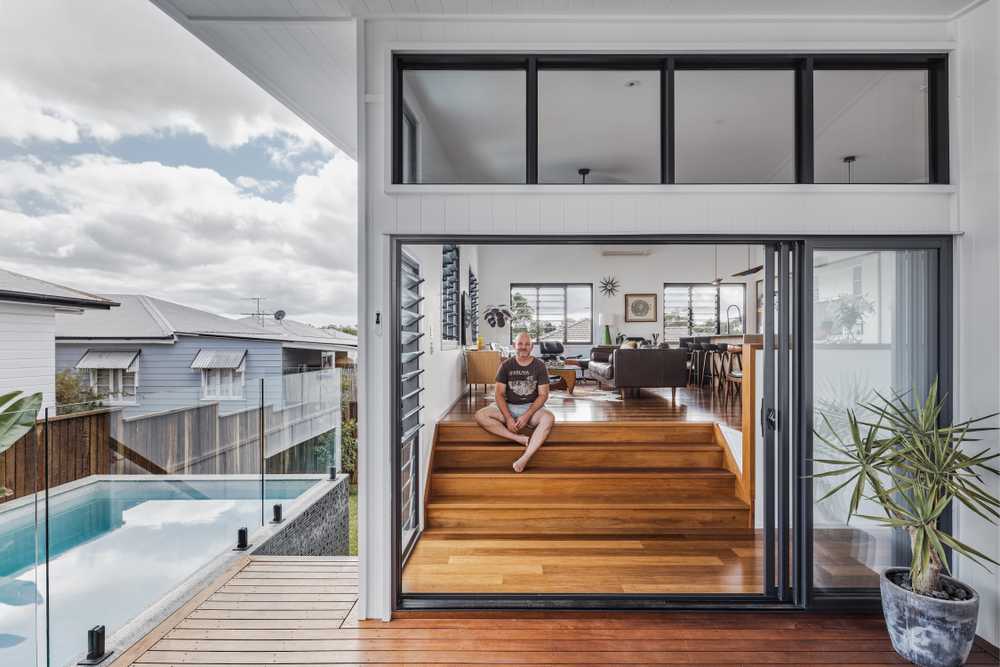 We caught up with our clients Bryan and Charlie about their new home journey and how life is for them in the Holland Park West Haus.
"At a Christmas party in 2014 a friend asked me about my new years resolution. My response, "a development project" explains Charlie. "The idea quickly became a reality when, in 2015, my partner and I purchased the property in Holland Park West."
As a practising town planner Charlie was across the Council requirements so he knew from the outset that the land that he and Bryan bought could be subdivided to create a new vacant residential lot. With a plan to complete some renovation work to the existing house, they would soon set their sights on finding the right team to help subdivide the land and design a home for the new lot.
Prior to commencing subdivisions and the build project, the client explored many design ideas and considered each alongside the financial costs and benefits. This gave them confidence that the subdivision and creation of a new home was not only fulfilling their dream but still financially sound investment.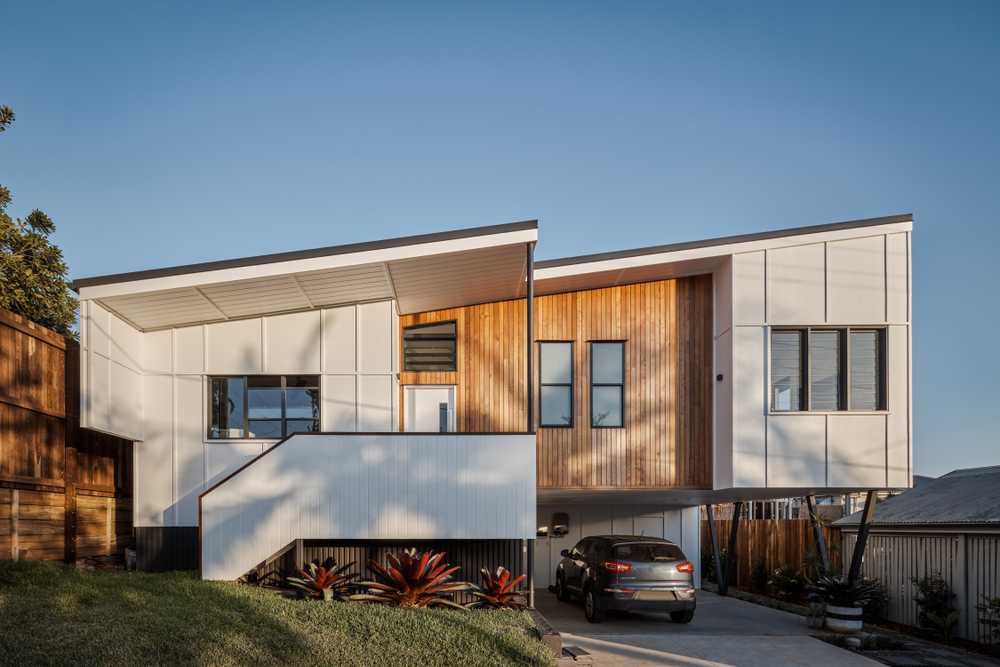 It was also a great opportunity to work on a small home project and maximise the 300m2 site that would be created. Their research also culminated in a Happy Haus commission and, after our assessment, we were able to confirm their view that a great home was definitely possible within the small lot constraints.
"Choosing Happy Haus to share the journey with us made the experience and outcome exceptional! The process was enjoyable throughout, from initial design to selections and construction."
Throughout the design process we ensured that the outcome responded to their inspirations and lifestyle aspirations. The brief centred on their love for mid-century furniture, subtropical Queensland living, post war homes and making a long-held dream come true.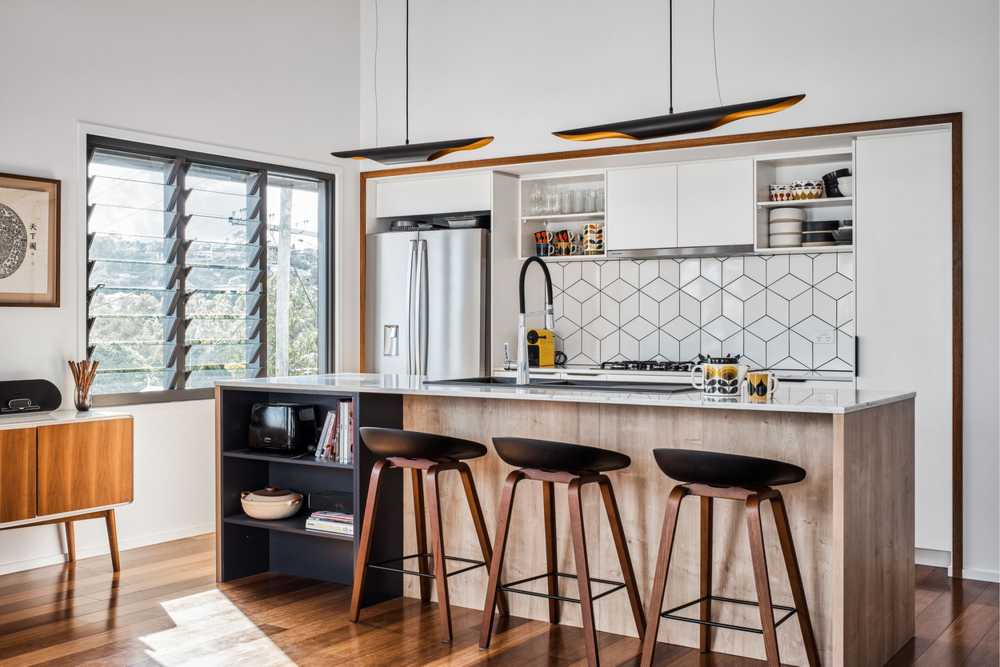 Brian expresses that, "having a salon of my own has always been my dream and it has helped me achieve a better work life balance. I save 40 minutes a day because I no longer commute and I'm loving meeting new clientele and now friends in the area."
Embracing the block topology, the design resulted in split-level living that creates spatial variation and separation of the home's key areas under a single, raking roof. Considerations for subtropical living allow for maximum sunlight, breeze and airflow through the house year-round.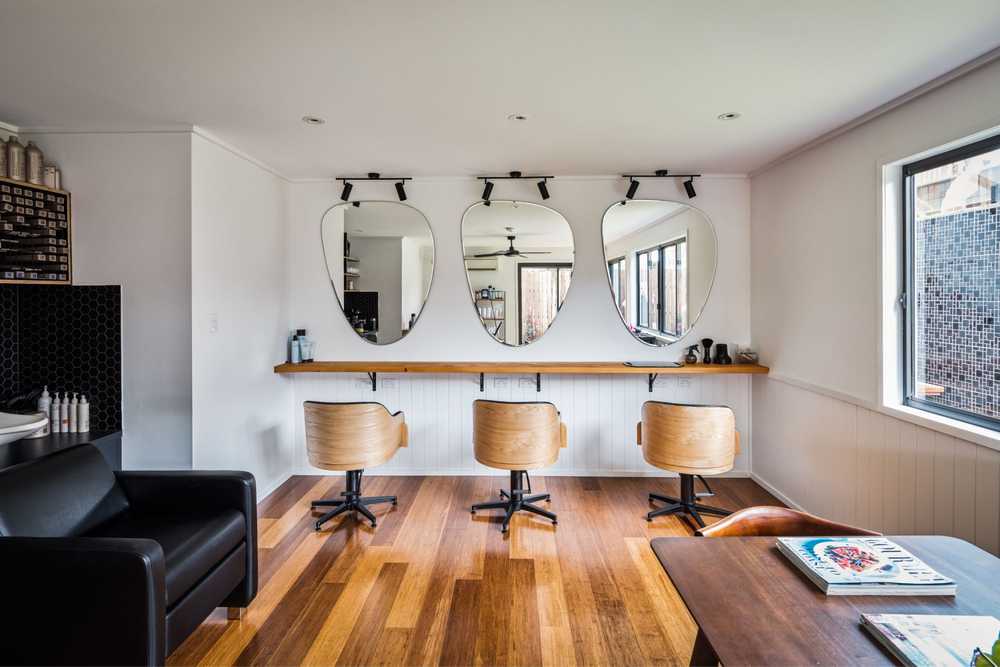 A home salon continues the mid-century theme on the lower level with large windows overlooking the pool and courtyard. Designed for clientele it will also serve future needs should it's purpose change to become an ensuite and bedroom.
Brian and Charlie were set on creating an architectural home that stands out from other cookie cutter designs and together we achieved an architecturally-designed home that overcame block and budgetary constraints through effective use of external and internal materials within a functional design that is not short on wow factor.
"The design team were professional and great listeners, with each iteration exceeding our expectations. The directors were involved, responsive and efficient in terms of communication for the project duration. Our home brings us happiness and joy and we continue to make great memories here with friends and family. It is a home that is not only tailored to our lifestyle and day-to-day needs, but also represents who we are as people. We are very happy in the haus, just like says on the box! We can confirm, it is a happy haus!"
On another note, we love that Brian has called his new salon inhaus hair.
Considering a knockdown rebuild?

To help you on your home building journey we've put together a guide with expert tips on what to think about when considering a knockdown rebuild.
Learn more
View Holland Park West Haus
Happy Haus Philosophy
The Happy Haus approach to designing